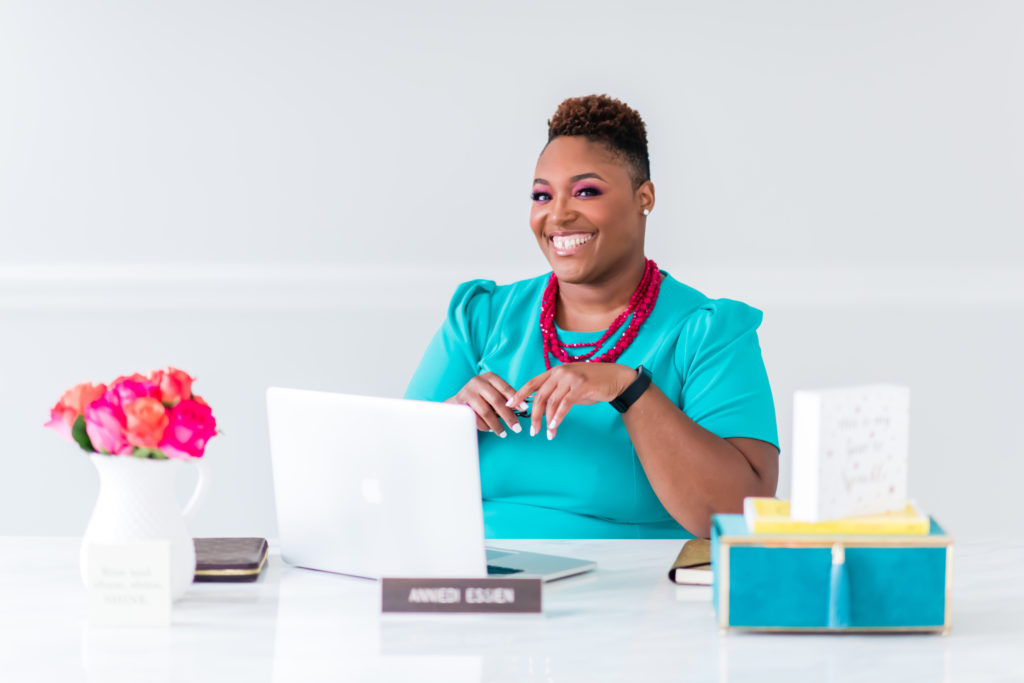 Are you looking to pump up your confidence at work and act like the impressive leader that you are? Then you've come to the right place. At Idem Spark, our mission is to help women thrive at work so they can achieve their wildest dreams! And it all starts with one thing: swagger.
Swagger is that X factor that everyone is looking for. From having the confidence to lead a meeting like a pro to having courage to ask for that raise you deserve, swagger has an impact on almost everything you do at the office. But if you feel like yours is falling flat, it might be time to bring in the experts to help you flourish instead.
We offer different types of coaching for women who are ready to take control of their careers. Learn more about our two different session styles to help you choose the right one for your goals, so you can start to act like the boss that you are!
Swagger Sesh
Ready to take your career to the next level and show off everything you have to offer? Now's your chance with our exclusive Swagger Sesh. These 45-minute executive coaching sessions give you the one-on-one support you need to turn up the volume on your swagger so you have the tools you need to tackle anything and show up for yourself in a more powerful way.
What could you do with more swagger? You can use your Swagger Sesh any way you'd like, such as:
Define your personal story online so you can increase visibility, attract opportunities and grow your career
Prep that proposal for your first consulting client so you can get clear on how to price that new engagement
Negotiate that raise at your 9-5 so you can make bank and position yourself for more sustainable success
Turn your side hustle into your main gig by exploring new business models to scale your dream more efficiently and effectively
Ditch the imposter syndrome by achieving greater authenticity in your personal brand so you can keep it real on LinkedIn or the 'gram
No mentor? We've got your back. If you're looking for a shot of confidence and 1:1 guidance to help you stay on track towards your ambitious goals, a Swagger Sesh can give you the power consult you need to keep your morale up and your focus zeroed in. That way, you can amp up your determination, own your own story, and slay the career game.
Sign up for your Swagger Sesh now to get the quick career boost you need!
Career Swagger Sessions
Are you going through a career transition and need support to whip your professional life into shape? If you said "YES!" then our Career Swagger Sessions may be the answer you've been looking for. Designed to help you achieve clarity about your unique identity and create a clear action plan, you can choose from a half-day intensive session or an ongoing 6-week or three-month executive coaching program—making it perfect for those who want ongoing support to achieve long-term success.
Whether you are:
Going from corporate to entrepreneurship and need to level up your personal brand
Growing into your new executive role and want to own your seat at the table
Already in your dream job, but don't want to lose yourself in the process
Just started your own biz and need to make boss moves quick
Juggling work and wellness but need more balance
…chances are you could use a bit more swagger!
All Career Swagger Sessions use our signature three-step framework of Mind, Body, and Swagger. Together, we'll visualize your goals, define your path, and establish the bold steps you need to take to go from dream job to dream life! We help you change the game by building your empire without burnout whether you're embarking on a powerhouse pivot, creating a boss brand or want to achieve greater work life harmony. Forget about recycled resumes. Get the mindset support, concrete biz strategies and confidence coaching you need to help you own your swagger.
Ideal for career-oriented leaders who are at the top of their game or those rockin' it out with their own biz, the Career Swagger Sessions will help you go further, faster. If you need a push to make boss moves and get unstuck to chart your own course, Career Swagger Sessions could be just the thing you need to get that sparkle back in your eyes and light that inner fire.
Book your Career Swagger Sessions today to get the REAL results you need!
No matter which type of support you choose, Idem Spark is designed to help you crush any career goal! By looking at wellness holistically instead of as just a number on the scale, you'll have the confidence you need to thrive at work, in your social life, with your workouts, and everywhere in between.
If you're ready to take back the reins on your wellness journey, learn more about our wellness community and connect with like-minded women!