I'd actually drafted this blogpost prior to the covid-19 panic setting in but now with the novel coronavirus on the brain this question seems more timely than ever. Have you been struggling to sustain your wellness goals during quarantine? I know I'm not alone. In the past few years, I've been through a hurricane, a couple of tornado watches, a layoff, a knee injury, lost loved ones and as of late am facing an impending global pandemic. I know how tempting it can be to throw in the towel on your wellness. With each twist and turn, I had to quickly learn how to continue navigating my wellness journey under less than perfect circumstances. The key to survival is adaptation.
As I encountered setbacks, I discovered that I must be flexible enough to quickly adapt to rapidly changing circumstances that can throw my wellness routine out of whack, especially at the times when I need it most. Whether or not health has been at the forefront of your mind prior to now, there's just something about a national emergency declaration that kicks those survival instincts into gear. Yet the idea of emergency preparedness always seems to catch us off guard even when we start off with the best of intentions. There is no greater urgency than now for us to collectively figure out how to preserve our health and protect our peace of mind. Feeling stuck? Let's explore some strategies to get unstuck and establish a new wellness groove that can keep pace with the changing times…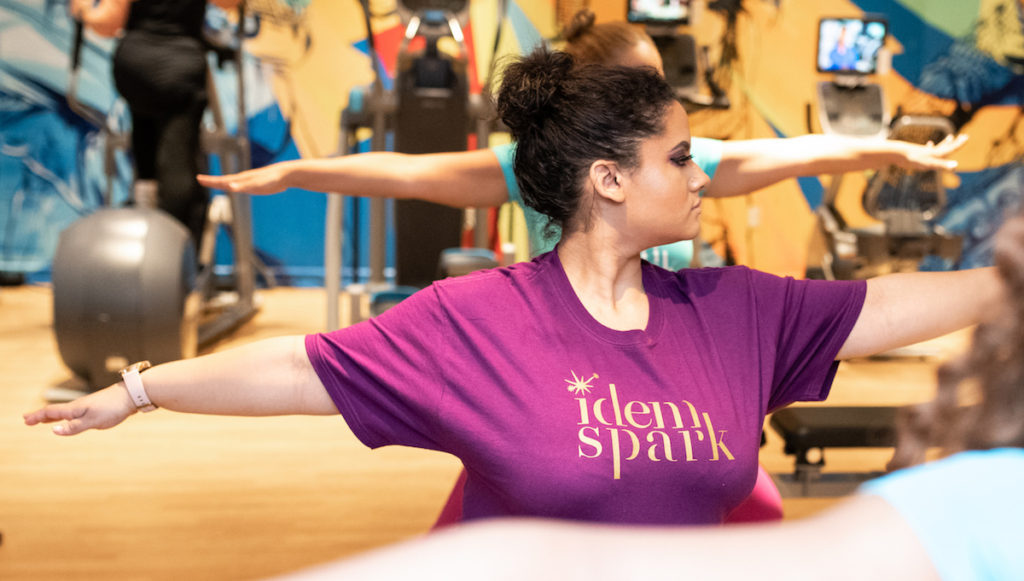 Finding your flow when you're surrounded by chaos is no easy feat. Life is what happens while you're busy making other plans, amirite? I mean, how many times have you embarked on a roadtrip only to have your cruise control interrupted by a fender bender that has traffic backed up for miles? Let's say you're riding the subway and you hear the awkward pause come over the loud speaker that says "due to mechanical issues this train is now delayed." We all know that air travel is always 100% on time so nothing to worry about there! As a former frequent flyer I got used to anticipating disruption on my weekly business trips. Sometimes it meant waiting an hour or two for a replacement plane, other times it meant spending the night in a random city to catch an early morning connecting flight the next day. In all these scenarios, detours can be a real buzzkill when you just want to keep moving forward.  
Whenever you are embarking upon a wellness journey, it's important to anticipate that life may throw you curve balls despite your best of intentions. The tricky part is figuring out how to maintain momentum and continue moving forward even in the face of periodic setbacks. These detours can range in severity of potential disruption, from bump in the road – e.g., navigating the buffet at an all-inclusive resort while on vacation – to a roadblock that stops you dead in your tracks, like job loss or the death of a loved one. I've been there and have learned a few survival tips along the way. When the road ahead is rocky, now's the time to put your wellness plan on autopilot. Check out these common wellness emergencies and some helpful tips on how to prepare for success.  
Starting to fret but no time to meal prep?
Take the path of least resistance. Convenience is key. I will always have something on hand for weeks where I don't have the energy to meal prep or am working against the clock on a major deadline. Here's a boss tip: keep a well-stocked freezer. Crockpot soups and chilis freeze very well and can be a major life saver when I'm on a time crunch. Frozen fish thaws out quickly and can go from freezer to dinner table in under 30 minutes and gives takeout a run for its money. Can't get to the supermarket? Online grocery shopping and meal delivery services are an efficient way to stay on budget (both financially and calorically) and avoid impulse purchases. I enjoy going grocery shopping myself but during the recent frenzy I actually tried online delivery for the first time and can confirm it was a game changer! I was way more focused on essential items, minimizing my potential for impulse purchases, so I could stick to the budget, managing my bottom line and my waistline at the same time.  
Can't seem to win or make it to the gym? 
When I used to travel often for work, I'd check out the hotel amenities in advance to ensure that there was a fitness center onsite. If you're working from home, having a variety of fitness gear can keep things interesting when you can't get to the gym. Short on equipment? Don't be afraid to get creative with some common household items that can substitute for weights – e.g., canned goods or water bottles. On-demand online workouts and bodyweight exercises can be done in the comfort of your own home. I have to admit that I was bummed about not being able to get to the gym during this season of social distancing because my workouts are a major source of stress relief. Since I am a big fan of group exercise classes, I will be trying out some online programs and live streaming workouts from some of my favorite instructors over the next few weeks and will be sure to report back on my experience. 
On the go and missing that spiritual flow?
Let's face it, struggling to cope with change is hard. From the shaking up of our everyday routines to the wave of emotions experienced on a daily basis we can sometimes feel like we are clinging to a raft in a raging sea. These are the moments we most crave sources of balance, stability and safety that are often tied to how well we connect to ourselves, each other and a higher power. Do you ever feel a bit off when you haven't been able to keep up with your spiritual practices? Whatever your faith is, it's important to proactively carve out time to honor it and recharge your batteries. Even if you can't make it to in-person services, you can stay tuned in for some inspiration: 1) download apps for guided meditation; 2) live stream faith based services online; and 3) listen to uplifting podcasts while you are taking a long walk in the neighborhood for a change of pace.  Shifting your mindset is a powerful way to find your flow.
These are unprecedented times, so don't be too hard on yourself.  It's all about progress over perfection. Let go of anxious feelings that say it's either all or nothing.  Be flexible and be gracious with yourself. Together, we'll get through this.