An exclusive Swagger School consultation for entrepreneurs who want to slay their B2B sales strategy
Apply today to join our April 2023 Cohort
Enroll by march 30th to secure your spot!
Landing a corporate contract can be a major game changer!
Many entrepreneurs want to ignite massive revenue growth in their business by replicating the success of the corporate deals currently falling into their lap, yet have no clue where to begin with upleveling their B2B sales strategies. Watch the video below to learn more about Seal The Corporate Deal and how we help guide you to landing more 5 and 6 figure contracts.
Time to get down to business
Six or seven figure revenue growth doesn't happen overnight. It's the product of a well defined business strategy that plays to your strengths and aligns to an ever evolving market.
Ready to land more 5 and 6-figure corporate contracts? Join this exclusive experience and get the evidence based tools you need to rock your B2B sales so you can win big as you elevate to new playing fields and scale your biz with greater ease. 
To slay your B2B sales, you will need to stop winging it and start thinking like a billion dollar brand. 
Let's face it.  Organizations have already sought out your expertise to advise them on shifting their cultures, growing their people and thriving in a dynamic market.  Now it's time to build upon your momentum and replicate your success with a proven process, path and plan.  
Forget the fads. If you're ready to ditch the trendy tactics and create a more sustainable B2B sales system so you can consistently land 5 and 6-figure corporate contracts on repeat…then you are in the right place, superstar!
Learn timeless tools of the trade so that you can secure the corporate bag…as an entrepreneur.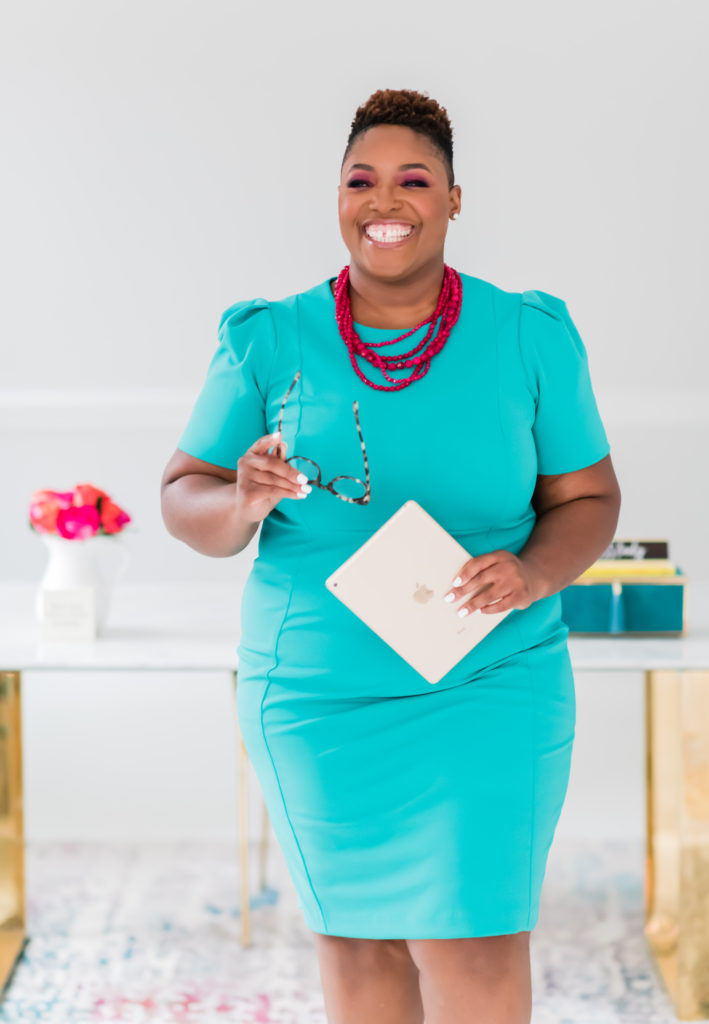 Accelerate Your Path to 5 & 6-figure deals
Click each module to explore how we support you at every step of your B2B sales journey so you can set the stage for your success
You have previously delivered at least one offer to an organization (e.g., speaking, consulting, training, books,  products or services)
You have professional expertise and a point of view you want to share with the world
You believe reaching your next level of biz is non-negotiable and wish to do so by securing more corporate contracts 
You are willing to embrace a spirit of experimentation and take action
You have a strong EQ (emotional intelligence) and resilience
You are open to receiving feedback in a group format
You value ethics, honesty and integrity in relational sales
You want to joyfully win at work, wealth and well-being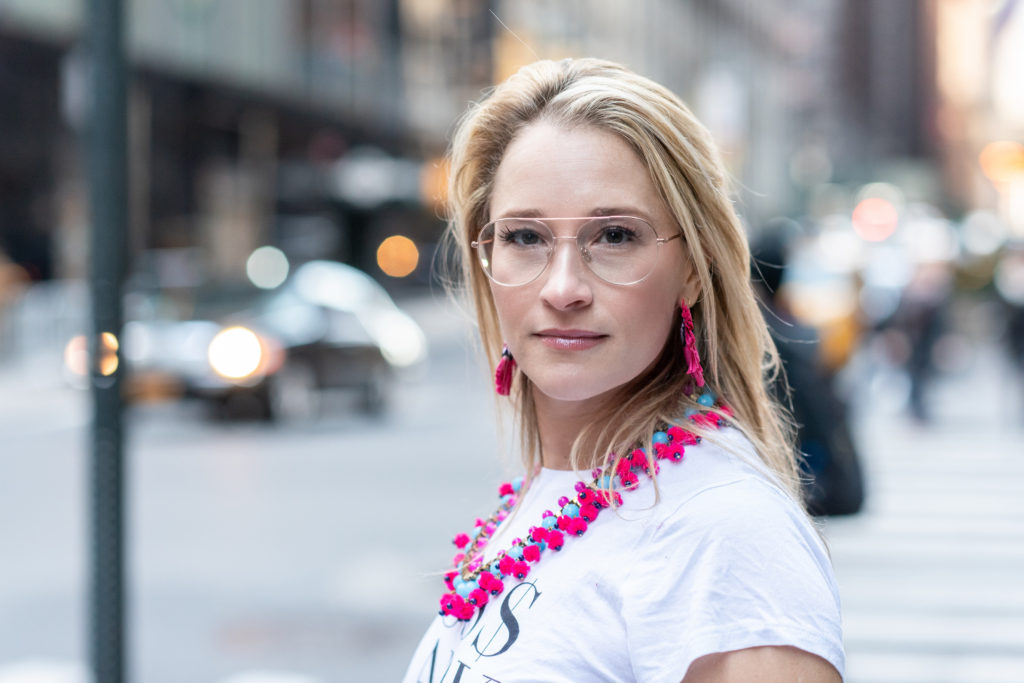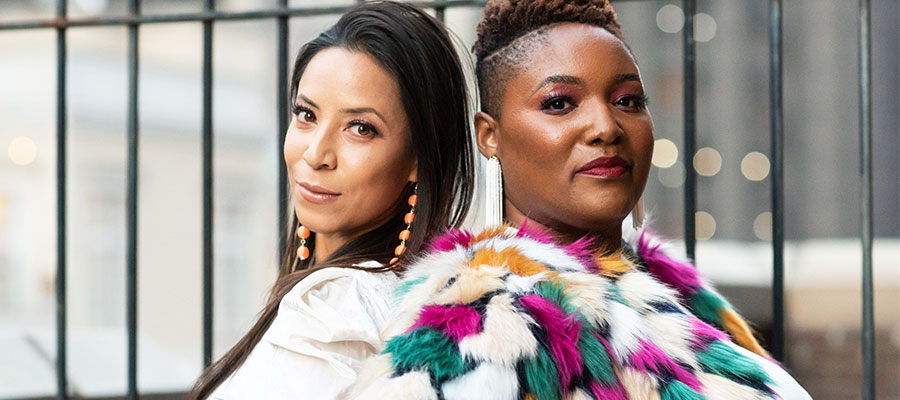 You have never delivered an offer to an organization and prefer working with individual consumers
You do not want to talk to strangers about your work, experiences or perspective
You love your comfort zone and do not currently wish to serve corporate clients 
You are not willing to test and learn from setbacks and prefer the status quo
You do not have a growth mindset and cannot receive feedback/ instructional critique for continuous improvement
You are not a team player
You prefer transactional sales by any means necessary 
You aren't seeking to find joy in your biz
There's nothing like launching a global culture consulting firm in Barcelona!  Denitresse pivoted her business from B2C to B2B and celebrated a 100k quarter with us in Swagger School.
"As a person who doesn't really do groups, this program was surprisingly refreshing and super valuable.  When you're building something for the first time it helps to have a community to go to for insights."
How would it feel to sit at the head of any negotiation table and confidently close bigger deals? Melinda returned from maternity leave ready to do her part to improve gender pay equity.
"I cannot say enough how valuable it was.  If you have this feeling like you need to take your business or your brand to the next level there's no faster way to do that than with Swagger School."
Imagine building a biz that aligns to your values and enables you to make an even bigger impact in the world.  Claudia was on an ambitious path to advance diversity in tech when major firms began reaching out.
"I didn't know what I didn't know.  Now I'm thinking about new, more scalable business models I never even considered before.  I learned from the peers in my cohort that six figure deals are normal."
We can only take a few entrepreneurs with us on this party bus. You know this is for you if you are done with the feast or famine contracts and are ready to consistently close more 5 and 6-figure corporate deals on repeat!
here are some incredible wins from our swagger school grads
5x'd her speaking engagement fee to close a 7.5k keynote for her PR biz
Closed a 12k corporate contract by leveraging her nutrition curriculum
Landed a 100k corporate contract in equity consulting
100x'd speaking fees by launching a global culture consulting firm and serving organizations
Celebrated a 100k quarter by selling executive coaching services to corporate clients
Closed 50k of corporate contracts including licensing her existing leadership development curriculum, successfully working smarter and not harder
Upsold an existing client on a 6-figure deal immediately following a Swagger School training session on negotiations that more than doubled the amount of revenue from her previous B2B contract
Landed 170k in corporate contracts within a single month, exceeding sales goals for her diversity and inclusion strategy consulting firm
Closed two corporate contracts in one day including a licensing deal for a film
WILL YOU BE OUR NEXT SWAGGER SUCCESS STORY???
Join our Mastermind
at Swagger School
Seal the Corporate Deal is a real world learning lab designed to teach you the top B2B sales strategies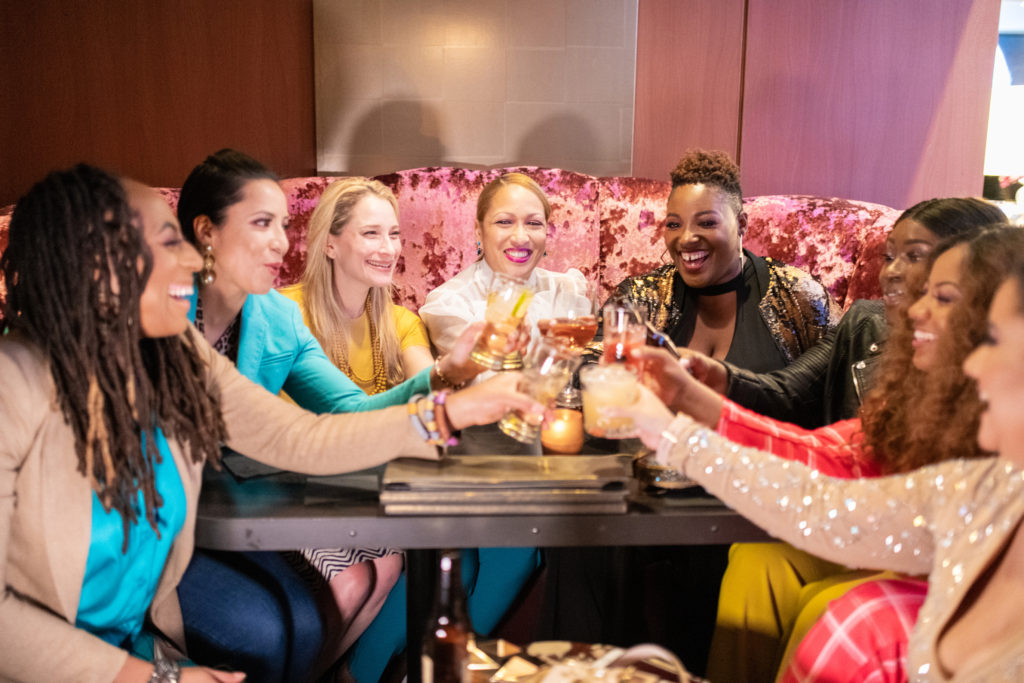 Teamwork makes the dream work. Join our squad to unlock your next level of success and celebrate your wins as you land your dream corporate clients
here's what's inside the 10-week program
slay your b2B sales Strategy with us
learn powerful negotiation skills at Swagger School B2B Sales Trainings to confidently close bigger deals, faster
access proposal templates and playbooks to put your best foot forward and polish each corporate pitch
get individualized and personalized attention in Office Hours within a small group of 4-10 Powerhouse Peers
Plus Upgrade For VIP Access To 1:1 Guidance and Support:
Get advisory support from a top corporate consultant with two 60-min VIP strategy consultations that can be used for customized guidance and strategic advisory support throughout the program.
Received unlimited proposal audits for real-time feedback on all your in-progress pitches and proposals.  Plus get an all access pass for complimentary entry to our hottest pop up events!
Take your biz to the next level, by reimagining the path after building a 7 figure biz.  Social selling strategist, Tiffany identified new revenue streams and ways of scaling her biz with greater ease.
"Put whatever you need to put in place to say YES to this because it will change your biz and ultimately it will change your life!  This is THE best investment I have made as a CEO."
Get down to business in a fluff free zone. A mental health and well-being consultant, Chrissie was seeking to leverage B2B deals to land more corporate contracts and take her biz to the next level.
"This was such a powerful experience.  I learned how to expand my service offerings, extend the lifetime value of my customers and who I need to be talking to secure more corporate contracts."
There is whole world outside of 1:1 work.  When tech companies began reaching out to Parijat, an integrative high risk pregnancy specialist, she joined Swagger School to navigate unchartered territory.
"I knew that if I wanted to enter this new arena and build the next wing of my business, I did not want to do it alone.  I found the right guidance and expertise to do it properly from day one."
Say bye bye to winging it in B2B!  A behavioral health executive, Zina went from being overwhelmed as a solopreneur to confidently landing global speaking and consulting engagements.
"Before, I didn't know how to write an independent proposal or how to set the value of my work.  After Swagger School, I feel like a real businesswoman.  I have the tools to create a sustainable business."
Swagger gets results. A leadership development coach, Layci went from burning 30k in B2C marketing tactics that did not attract her target corporate clients to licensing her curriculum.
"I love that I can be my authentic self and be successful in corporate. This has been the biggest quarter yet. I went from being stood up on Zoom calls to closing 50k in corporate contracts!"
There's no greater thrill than pitching a multi-billion dollar firm and getting a heck yeah.  Brandi leveraged her special sauce as a style and confidence coach to shake corporate DEI up in all the best ways.
"She really has the ability to envision something much bigger for you than you can for yourself. Swagger School helped me translate my skills and test out new ways to reach corporate clients."
Twerk all the way to
the bank
Gain access to a thought partner who sees the bigger picture, breaks it down into actionable next steps and delivers crystal clear direction.
Our client, Denitresse attended our pop up session on "How to Secure the Corporate Bag…as an Entrepreneur" and enrolled in Swagger School! Seal the Corporate Deal was pivotal to igniting her ability to close corporate contracts with her dream organizations. Upon graduating, she landed an executive coaching deal with a big bank, and went on to exceed her revenue goals by celebrating a 100k quarter followed by a 100k month!
"Anniedi is a breath of fresh air. I needed legit strategy and a solid plan to shift my business from B2C to B2B. Anniedi's strategy background and experience working with some of the largest most recognized brands on the planet were exactly what I need to support my transition."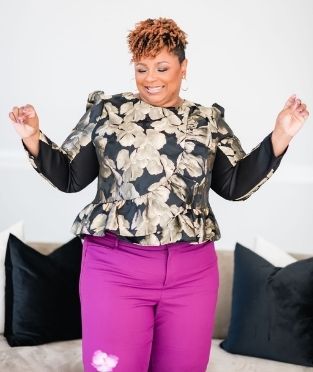 Answers to help you make the right decision for your unique journey.
check out some more of our client wins
Celebrating Corporate Deals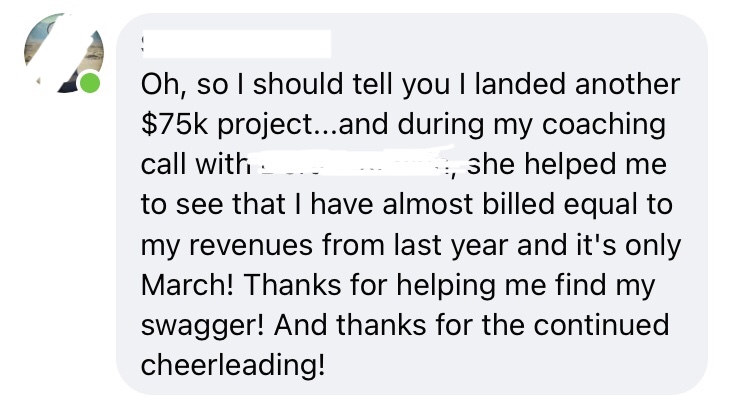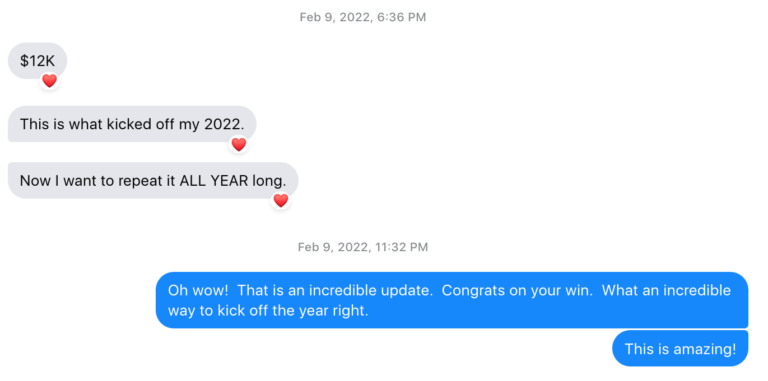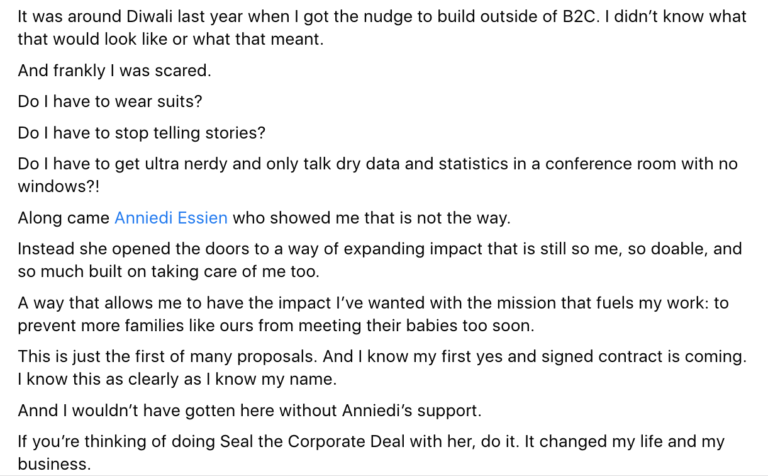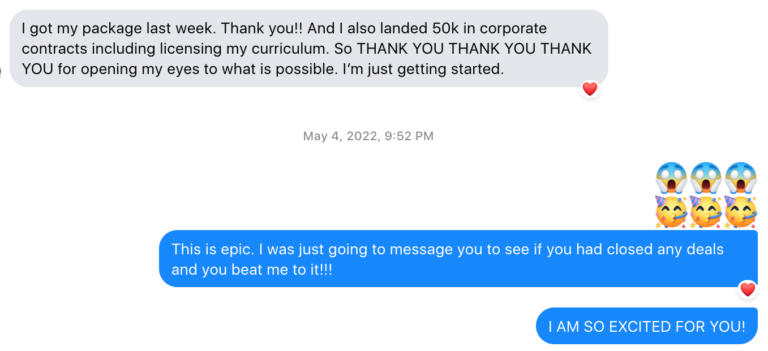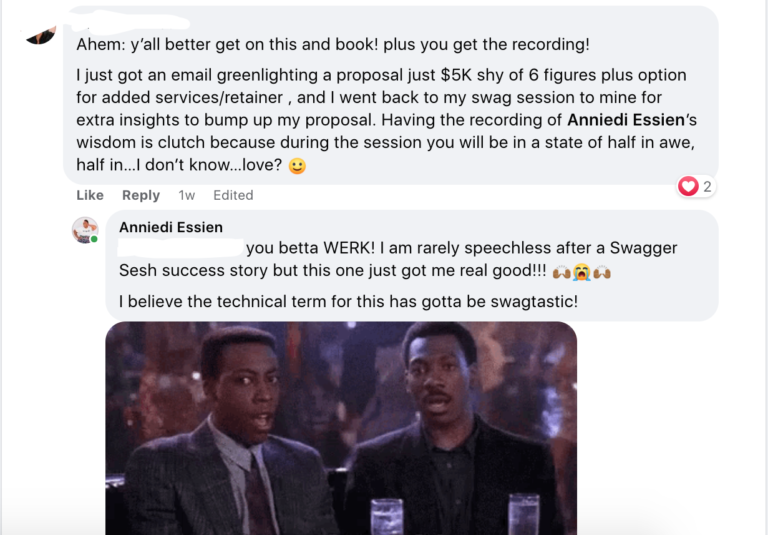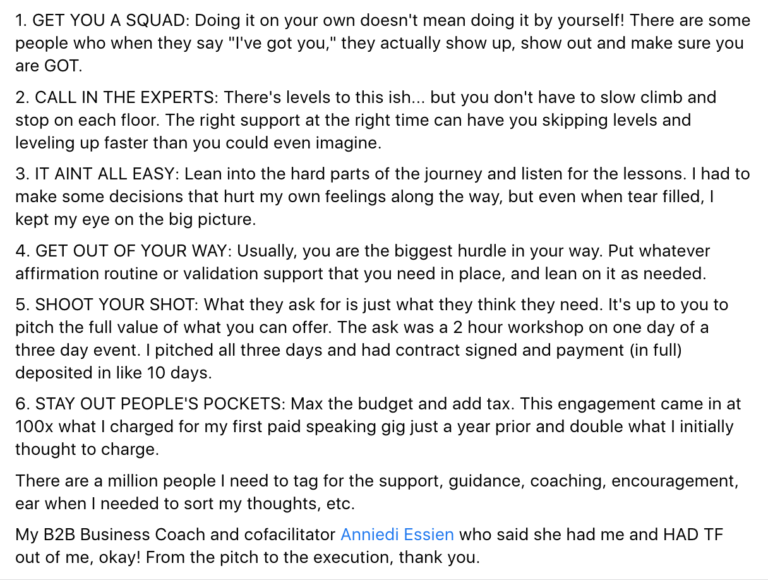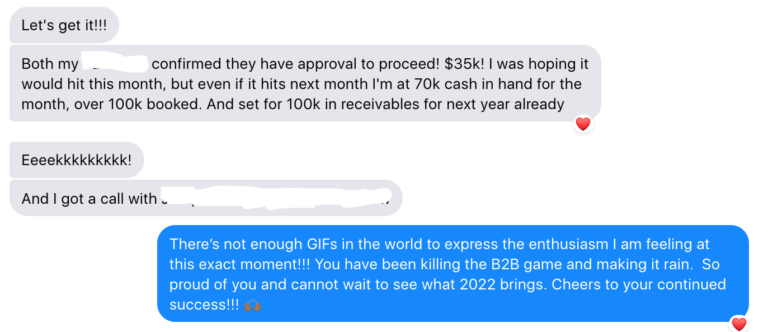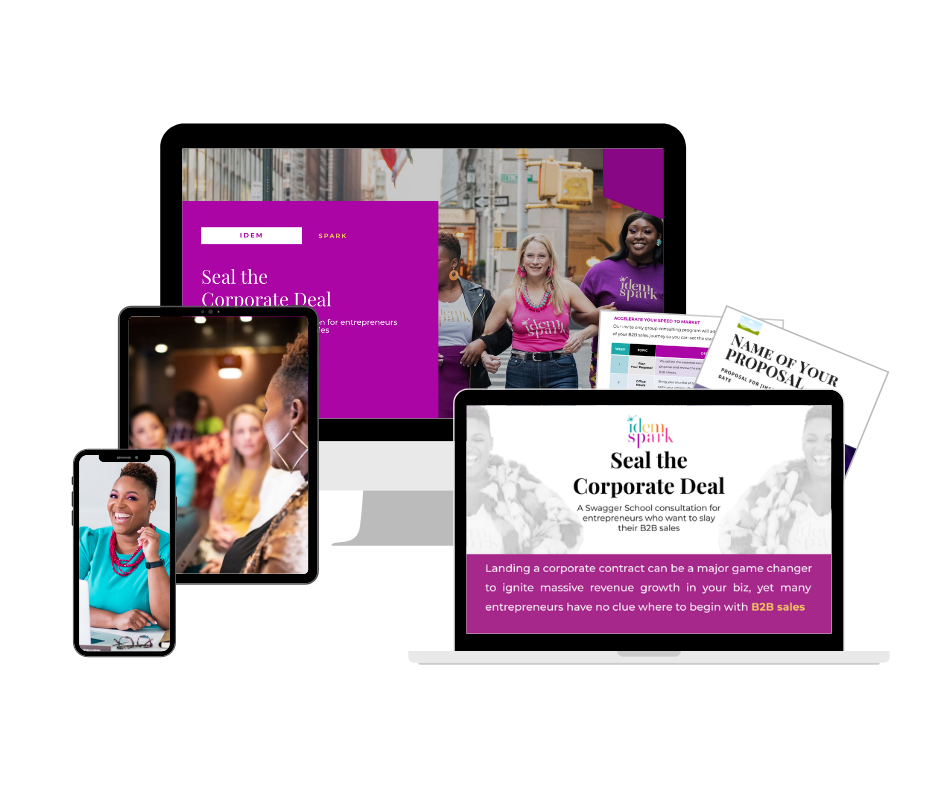 In a tough, rapidly evolving and dynamic business environment, corporate buyers are actively searching for solutions from a diverse range of suppliers.
Savvy Entrepreneurs who are well positioned to maximize this moment can fuel significant growth for their business if they are prepared. Lately you have been thinking about expanding your B2B footprint but you're unsure of how to navigate this new playing field. To land lucrative corporate contracts you will need  to develop a different set of sales skills than those taught by traditional online marketers. Learn from a top biz strategist and corporate consultant who has advised the largest global brands.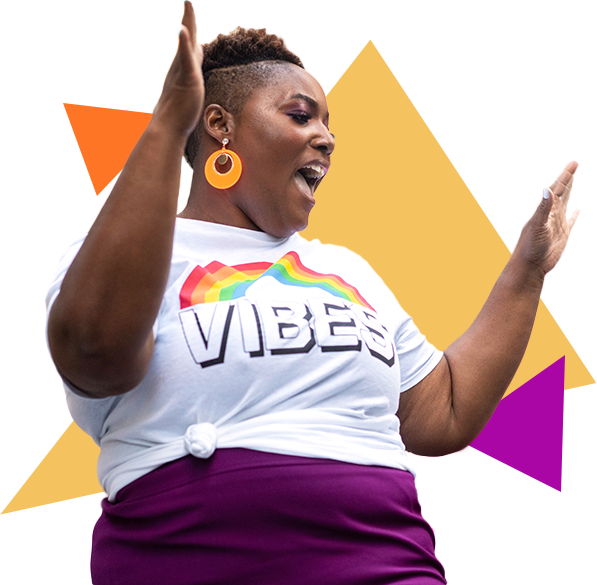 consult with a trusted advisor
I've bought and sold millions in professional services and I'm thrilled to be your guide on this journey.
I'm on a mission to close the wealth gap and democratize the dealmaking skills typically reserved for the largest corporations so that you have the insider insights and capital you need to scale your B2B biz in with greater ease, joy and sustainability.
I've been on both sides of the table as a buyer negotiating vendor contracts and as a top strategy consultant selling to Fortune 10 clients. As the first in my family to become a corporate executive, I was often the only one who looked like me at the negotiation table. I refuse to allow you to waste any time feeling lost, alone or confused about how to land more corporate contracts. 
After a brutal layoff, I went from behind the scenes of advising the largest global brands to building a bold, brilliant, and bankable biz amidst a pandemic – all by leveraging the power of B2B.
I created my proprietary pitch & proposal methodology so you can stop winging it, negotiate with confidence, and rock your swagger to the boardroom and beyond.
 I'll be your advisor on this epic B2B sales strategy adventure!
Our Superstars are Landing Corporate Deals by Rocking International Keynotes, Licensing Their Assets and Training Teams on Their Transformative Methods
Read what they had to say...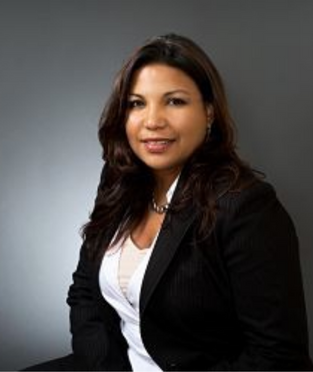 "I was struggling to conceptualize my framework but this helped me to create a model for my keynote talk in Paris. I am buzzing with excitement!" - Zina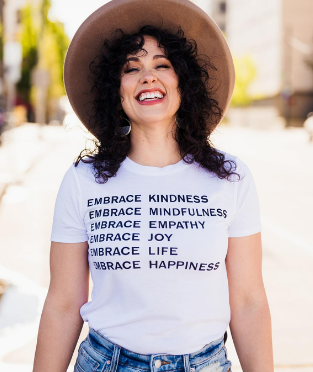 "I went from burning cash (30k) on B2C marketing that did not work, to landing 50k in corporate contracts, including licensing out my curriculum via B2B deals. - Layci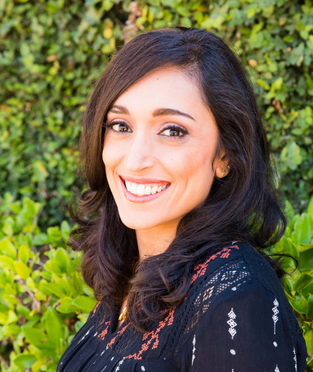 "Anniedi helped me clarify my goals, vision, and identify very specific action steps to take to grow my business in the way that I've only dreamed about until now." - Parijat
Select the enrollment package that works best for you! There are only three spots available for VIP ACCESS which includes bonus upgrades to receive two 1:1 pitch consults, unlimited proposal audits and an all access pass to attend our hottest Swagger School pop up events.
10-week group consulting program
VIP ACCESS with bonus upgrades